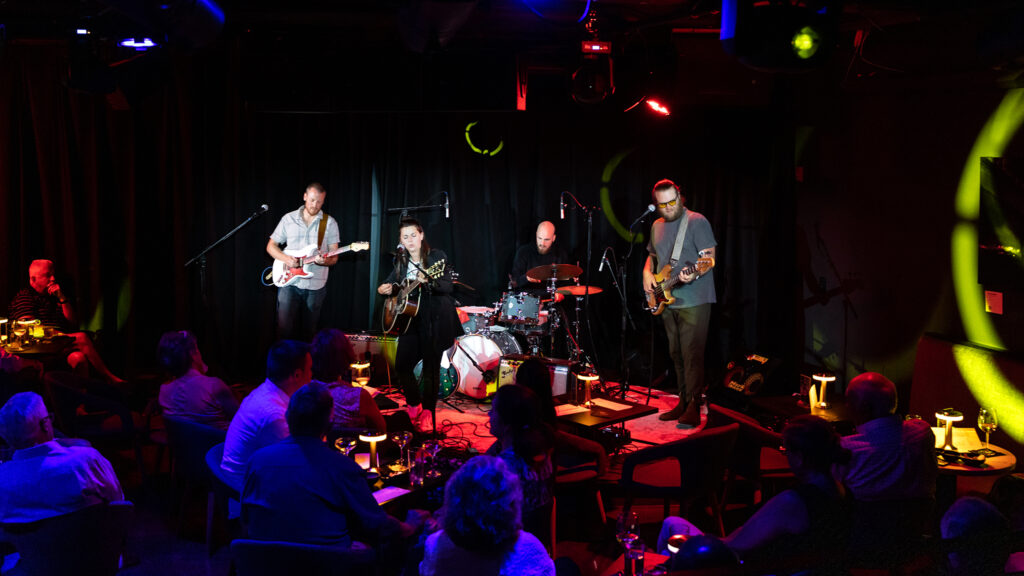 Welcome to The Lounge
Our revitalized, nightclub-style space at 131 Congress Street features high-quality programming, bar & small bites, and a great view from every seat!
Check Out Our Menus
---
Schedule
Music
Thanks To Gravity • 12/8 & 12/9
Thanks To Gravity returns to The Lounge to celebrate their first new album in nearly 20 years.
Music
Sharon Jones • 12/10
A Portsmouth legend returns to The Music Hall Lounge with high energy R&B and Blues tunes.
Literary
Karen Akunowicz • 12/12
The James Beard award-winning chef presents 100 recipes that capture what you crave.
Comedy
Comedic Relief with Emily Ruskowski • 12/13
Come out for a midweek break with rising local star, Emily Ruskowski.
Music
Henhouse Prowlers • 12/15
Original and powerful bluegrass, at the intersection of performance, diplomacy, and education.
Music
Taylor O'Donnell Trio • 12/16
Enjoy whimsical holiday classics to celebrate the season with Taylor O'Donnell.
Comedy
Andrew Pinard: Discovering Magic • 12/17
An interactive sleight-of-hand magic show from award-winning performer and theatre artist, Andrew Pinard!
Music
An Evening with Nat Zegree • 12/20
Nat Zegree returns to the Lounge with his energetic show sure to delight!
Music
Abrielle Scharff's – Abby Holidays! • 12/21 & 12/23
Abrielle is back in her hometown for her annual holiday show.
Music
Ultimate Johnny Cash with Scott Moreau • 12/22
Scott Moreau brings his ultimate Johnny Cash tribute to Portsmouth.
Music
Rockspring's New Year's Eve Party • 12/31
Rockspring is back to ring in 2024 at the Lounge!
Music
The Brother Brothers • 1/6/24
The indie folk duo of twins have toured with the likes of Shakey Graves and Lake Street Dive.
Music
Socks In the Frying Pan • 1/11/24
One of the most sought-after Irish music groups in the world today.
Comedy
Caitlin Peluffo • 1/13/24
A rising star in comedy, Cailtin Peluffo returns to The Lounge!
Music
Jax Hollow • 1/18/24
An untamable force of nature, Hollow blends genres with ripping riffs and powerful vocals.
Music
The Midnight Wrens • 1/19/24
The Midnight Wrens blend threads of Americana, funk, jazz, and folk into soothing, sometimes gravelly, original songs.
Comedy
Lucas Zelnick • 1/25/24
This New York City-based comedian uses punch-heavy material to challenge his cushy upbringing.
Music
Lee DeWyze • 1/26/26
The American Idol winner returns to The Lounge with his soulful music that blends rock and folk.
Music
Harrison Goodell • 1/27/24
The Dover-based singer-songwriter returns to the Lounge!
Music
Dreadnaught • 2/3/24
Dreadnaught is an eclectic blend of rock, jazz, and experimental music from the seacoast for 30 years.
Music
Sarah Blacker Band • 2/10/24
The band presents seamless songs that expand into danceable grooves and playful improvisational journeys.
Music
TMH & UNH Present: The Chamber Music of Robert Honstein • 2/15/24
UNH and TMH present an evening of Robert Honstein's chamber music performed by a unique collaboration.
Music
Griffin House • 2/17/24
Named one of the best emerging singer-songwriters of our time, Griffin House returns to The Lounge!
Music
Adrienne Mack-Davis • 3/1/24
This classically trained soul/hip hop artist infuses R&B melodies with dance and positivity.
Music
Hayley Reardon & Judit Neddermann • 3/9/24
Hayley Reardon returns to The Lounge with award-winning composer and singer Judit Neddermann.
Music
Scott Kirby • 3/16/24
A modern-day troubadour, Kirby wears many hats as a singer, songwriter, guitarist, and storyteller.
Literary
Owen King with The Curator • 3/22/24
 From the New York Times bestselling author comes a Dickensian fantasy of illusion and charm.
Music
Catie Curtis • 4/6/24
Catie Curtis pulls the walls down between performer and crowd.
Comedy
Gianmarco Soresi – The Leaning In Tour • 5/9/24
The New York-based comedian blends upbeat candor with dark comedic beats.
Our revitalized, nightclub-style space at 131 Congress Street features high-quality programming, bar & small bites, and a great view from every seat!